HawkT
HawkT Benefits:
Multiple or single site surveillance, and command and control
Integrates geo-referencing for precise alarm location
Single monitor control and
response management

HawkT's open and scalable architecture integrates with many radar, sensor, and video technologies.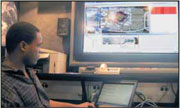 A user views HawkT in a mobile
command and control center.
HawkT, one of three Praetorian system components, assembles and manages surveillance information from dispersed sites into a central control workstation. Users are able to simultaneously monitor in real-time multiple sites or a single location, reducing the costs and labor necessary to oversee the security of remote locations.
HawkT Features:
Provides rapid access to all sites, cameras, and sensors in the network.
Immediately reports all alarms in the system and orients the operator to event location
Communicates immediately with Video FlashlightT and takes the operator to the behavior of interest in 3D context
Enables quick, early understanding of important events permitting preemptive use of video surveillance
Reduces the need for multiple video monitors, permitting optimal use of personnel
Allows control of multiple Pan-Tilt-Zoom cameras from one location
Optimizes alarm management and quick analysis
Integrates with many radar, sensor and video technologies including commercial off-the-shelf (COTS) PC hardware and software.
Technical Benefits:
Integrated-alarm visualization rule and device control displays in either a single or double monitor format
Multiple submeter, geo-registered maps or imagery overlays (Computer Aided Design (CAD), Landsat, Geographical Information Systems, etc.) for large
areas
Slue PTZ cameras to alarm-generated areas
Fully integrated with Praetorian's Video FlashlightT technology.
System Specific cautions:
HawkT is designed to run on Microsoft® Windows 2003 Server and Windows XP Professional operating systems.
Typical deployments consist of:
Praetorian HawkT software
HP ProLiant DL145 1U Rackmount Server or equivalent work station*
Dual 2.8GHz XeonT Processors
2GB System RAM
300GB SCSI Hard Disk Drive
10/100/1000 baseT NIC
Redundant Hot-Plug Power Supplies
Custom architectures and systems for specific environment requirements and applications can also be designed.

* Praetorian's HawkT software has been tested and works successfully on the HP ProLiant DL145 1U Rackmount Server.