Remote Flashlight
Remote Flashlight Benefits:
Powerful Situational wareness:
Mobile devices show a 3D display, to immerse and empower remote forces
Operational Control: Users directly control all fixed and PTZ cameras in the network
Information Management: Users view both real-time and recorded video.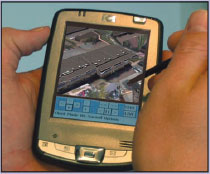 Remote Flashlight Screenshot
Praetorian's Video FlashlightT remote client application gives users the ability to access and control Video FlashlightT, view video streams, and view and control both Pan, Tilt, and Zoom (PTZ) cameras remotely from a PDA, laptop or workstation.
System users view the 3D immersive environment, and make real-time virtual guard tours from remote locations.
They can also view individual fixed camera and PTZ video streams to zoom-in on targets. For example, patrolling guards can assess what kind of risk they are about to encounter, avoiding unnecessary harm; and preparing an appropriate response.
Multiple users can connect and view the Video FlashlightT system simultaneously. Use is controlled by access levels, and remote control of system resources are arbitrated by user-priority levels.
The Remote Flashlight application utilizes industry standard TCP/IP network communication protocols, and can be routed across local, remote, and wireless networks.
Remote Flashlight runs on standard laptops, and PC workstations running Microsoft Windows operating systems, as well as PDAs running the Microsoft Windows Pocket PC operating system.
Whether for Safety, Security, Training, Operations, or Business Applications, Video FlashlightT and Remote Flashlight enables the user to see the total picture, understand surveillance information in real-time, and act preemptively to stop or contain emerging threats.