VisionAlertT
VisionAlertT Benefits:
Unlike most of our competitors, VisionAlertT is capable of programming multiple alarms per camera


An open-architecture platform, VisionAlertT integrates with many camera technologies


Patented algorithms permit the screening of environmental conditions reducing false alarms


Point and click alarm configuration.


VisionAlertT, one of three Praetorian system components, can transform a conventional surveillance system into an Intelligent Video Analytics and Alert Solution.
VisionAlertT offers real-time detection of motion, breach, loitering, leftbehind objects, and can incorporate many manufacturers' alarms. Through customizable, user-defined alarm configurations, the software delivers users greater situational awareness and provides real-time data for preemptive action.
Unlike other video analytic software, VisionAlertT is capable of programming all four detection categories and multiple alarms on a single camera - providing a virtual surveillance shield. The alarms can be tailored to meet different surveillance needs, such as wide area surveillance, tailgating, objects thrown over a fence, abandoned vehicles, speeding vehicles, zone surveillance, removed objects, and graffiti.
VisionAlertT continuously compensates for camera movement. Environmental factors such as rain, snow, shadows, and swaying branches are all factored out to reduce the rate of false alarms. The software uses polygons, easily drawn by the operator inside a camera's screen-view, to define specific areas of concern for each alarm type.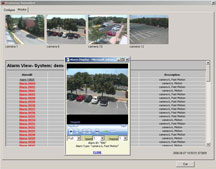 Individual alarms can be configured, changed, enabled or disabled with a click of a mouse. As an open-architecture platform, VisionAlertT integrates with many legacy camera technologies such as fixed, Pan/Tilt/Zoom (PTZ); IP, analog; thermal, EO, and more, as well as commercial off-the-shelf (COTS) PC hardware and software.
Technical Info
System Specifications:
VisionAlertT is designed to run on Microsoft® Windows 2003 Server and Windows XP Professional operating systems. Typical deployments consist of:
Praetorian VisionAlertT software:
HP ProLiant DL145 1U Rackmount Server or equivalent work station*
Dual 2.8GHz XeonT Processors
2GB System RAM
00GB SCSI Hard Disk Drive
DVD+RW/CD+RD Combo Drive
Dual 10/100/1000 baseT NIC
Redundant Hot-Plug Power Supplies
Winnov 4400VO Video Capture Cards (required only for analog video capture)
Custom architectures and systems for specific environment requirements and applications can also be designed.

* Praetorian's VisionAlertT software has been tested and works successfully on the HP ProLiant DL145 1U Rackmount Server.