Public Venue Solutions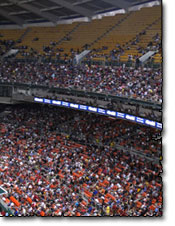 Public assembly facilities host the largest mass gatherings of people around the world.
Security experts in the entertainment industry recommend a range of technology implementations, including perimeter and access control systems.
Unfortunately, legacy systems are limited in their user-friendliness, ability to show the entire event in real time, continue to monitor suspicious behavior, and conduct timely forensics analysis.
Praetorian has answered the technical challenge of managing all the streams of disparate surveillance information into a real-time, easy to understand, and actionable format. Through Praetorian, security personnel are able to monitor sensor alarms, establish visual-based-alarms using the cameras, and set the system to slue-to-cue. In addition, using the Praetorian software, virtual models of facilities, streets, and open areas can be "built". Video is stitched into the models, thus giving the users a three dimensional (3D) full situational awareness. By combining multiple video feeds into a unified 3D view, operators use the Praetorian application to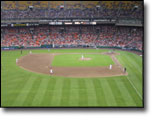 move in any direction, look around corners, fly from rooftop to street level, or even review prerecorded video from different perspectives.
Global Security and Engineering Solutions' easy-to-use intelligent surveillance system, Praetorian, offers superior video management and integrates with many legacy surveillance, security, and safety technologies.
The turnkey software provides for swift, protective action in even the most complex and densely populated sites. When deployed private and public operators can benefit from: greater information management and situational awareness; the ability to minimize costs; and reduce liability, labor, and risk of loss.
"To provide safe, secure, enjoyable experiences, facility managers have realized the need to be proactive rather than reactive in their efforts to stem this growing problem", as stated by a leading facility security research firm. Proactive guidelines issued by the International Association of Assembly Managers http://www.iaam.org/Facility_manager/Pages/2006_Aug_Sept/Feature_4.htm) and the DHS give facility managers a starting point in examining their security practices.

Supporting these guidelines is a practical exercise facilitated by the IAAM and DHS, which helps facility managers identify the strengths of their facilities', security plans and areas where improvement is needed, as well as prioritize security enhancements.
The Global Security & Engineering Solutions (GS&ES) vulnerability and risk assessment experts stand ready to help you design a customized security solution, based on Praetorian's state-of-the-art technology. The ultimate goal is to act preemptively against emerging threats